Meet Ekaterina Zentcova – Rising Star and passionate Traveler
Siberian native Ekaterina Zentova has always been drawn to China, so when she had the opportunity to study at Les Roches Jin Jiang's Shanghai campus, she couldn't wait. Now undertaking an internship with the Ritz-Carlton in Kyoto, she's also been nominated for the Rising Star Award at the Hotelier Awards Asia which will be held on December 14th in Macau. We sat down with Ekaterina for an interview about China, her nomination and where the Industry is heading.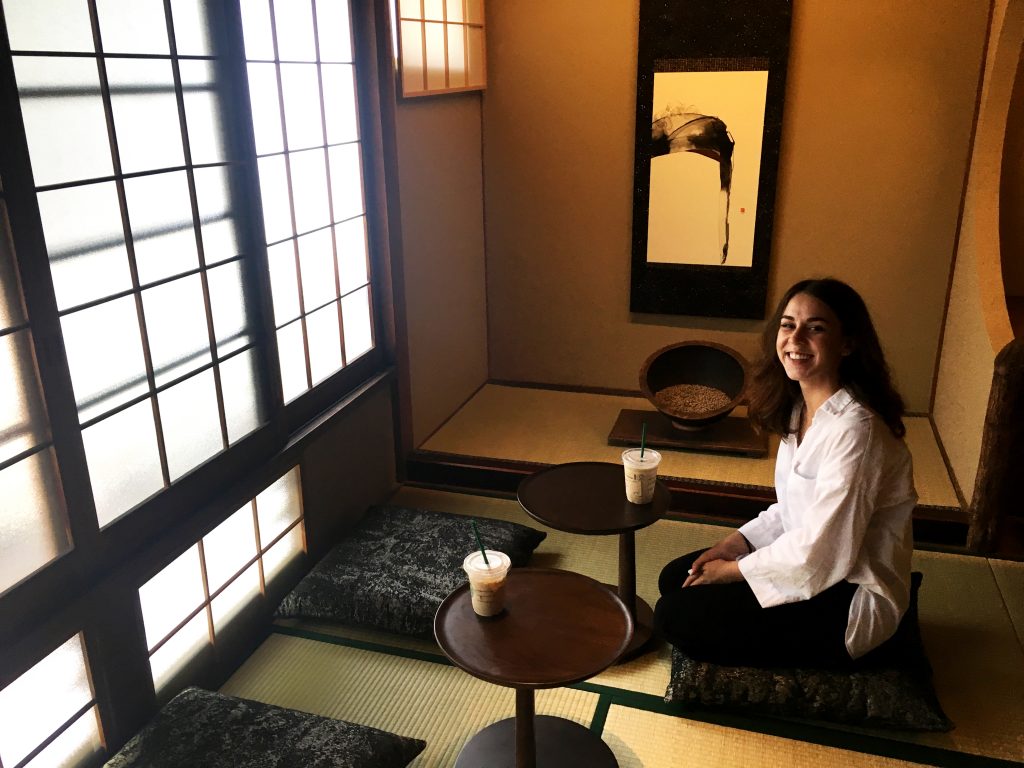 Ekaterina in a traditional Japanese apartment in Kyoto
LRJJ: Let's start off with getting to know you a little more. Where did you grow up and when did you become interested in Hospitality?
I was born in Siberia and mostly focused on economics during my time in the Lyceum. My interest in Hospitality was ignited through travelling – spending time with people from different backgrounds and nationalities became something I quickly became very curious in.
LRJJ: At what point did you decide to study International Hotel Management?
Shortly before graduating from High-School I was looking at options where I could connect my passion for travelling and multicultural settings with promising career prospects.
After some research I came across Les Roches and the study field of Hospitality Management which seemed like a great fit.
LRJJ: Why did you choose Les Roches?

Les Roches was and still is a very prestigious name for studying Hospitality and it really was an asset to be able to study at multiple locations on different continents. It seemed like the ideal option to combine travelling and academics.
LRJJ: You started studying at the campus in Shanghai – what intrigued you about China?
As a Russian from Siberia, I have always been intrigued to China. It's both a huge market as well as a vastly multifaceted country.
Also, being able to study and live in Shanghai for a few semesters before completing my Bachelor degree in Switzerland was a great combination.
LRJJ: Les Roches is not a traditional university per se but applies a unique learning style. What do you like best about that approach?
The mix of practical learning and academics is certainly intriguing. You don't only talk or read how to accomplish tasks but actually practically apply them in a working environment.
Teaching and learning from other students certainly gives a big boost to the way you learn. I really enjoy that approach.
Your practical experience    
LRJJ: You're currently completing your internship at the Ritz-Carlton in Kyoto. Can you give some background about the internships you've done so far and what you learned from these experiences?
My 1st internship was in Phuket, Thailand where I worked at a hotel owned by Banyan Tree. It was a great learning experience and it showed me to always be reflective and critical while maintaining composure.
In contrast, my 2nd internship here in Kyoto is much more focused on training and applying the knowledge afterwards. They have much more structure in handling their interns and my learning curve is very steep.
I always try to review my experiences from a leadership standpoint and identify what I can learn, both in terms of inheriting good habits and learning from bad examples, to become a leader later in my career.  It's about how to always try your best and finding constructive solutions to daily challenges.
The Hotelier Awards 
LRJJ:  You're nominated for the "Rising Star Award" at the Hotelier Awards Asia. In your mind, what attributes does one need to be "the perfect hotelier"?
The perfect hotelier should be honest and proud of his work. Knowing your property and your staff is absolutely crucial. This person needs to care about people from his heart.
 LRJJ:  Your nomination certainly doesn't come from nothing and you earned it through hard work – what is your best trait or the characteristic you're most proud of? 
This is hard to tell, but I have to say that dedication comes normal to me. My peers say that I listen closely and thoughtfully and my friends and colleagues can always trust me. Another useful treat is that I'm able to adapt to varying circumstances very quickly.
LRJJ: How did you learn about your nomination?
(Smiles) I was basically checking my emails every 10 minutes after having submitted my application. Once I received the note, I was actually screaming and jumping around my apartment! It was a very joyful moment and I was very happy to share it with my family.
 General approach to Hospitality       
LRJJ: The Hospitality Industry has become quite diverse and there are plenty of definitions to be found. What does "Hospitality" mean for you personally?

Hospitality is about giving people a great experience, making every second full of memories and making them feel at home even if they're away from home.
LRJJ: What do you like most about the profession?
Learning and dealing with challenges. Every day is different and brings new adventures – I really embrace this dynamic.
LRJJ:  There currently is a shift that goes through the Industry and "disruption" seems to be the word of the moment. How will the industry change in the intermediate future?
Millennials are becoming key customers for most brands. While technology and shareconomy concepts are surely there to stay, I believe that people will always be interested in personal service. This demand of personal touch will remain a constant in the industry.
Look ahead & Vision  
LRJJ: Being nominated the "Rising Star" we cannot avoid the question of asking where you see yourself in 5 years. Any ideas? 
Tough question given the dynamics of a globalized industry. I'll probably be in Hotels, definitely in Hospitality. I'm curious about becoming an entrepreneur at some point – opening my own boutique hotel would certainly be an amazing feat. But that lies further ahead.
 LRJJ:  What is your ultimate goal for your professional career?
I want people to know and respect me for of the things I accomplish for them. For me, this would be the ultimate sign of appreciation for my work ethos.
LRJJ: Thank you for your time and best of luck for the Award Ceremony, Ekaterina!